My name is Beth Campbell. I started Great Solutions back in 1997 to offer unique quality Health Products and educate people about the 9 Laws of Wellness and how important it is to be balanced in each area in order to achieve Optimal Health.
All 9 Laws of Wellness are represented in my logo. The logo is a person celebrating their joy of having balance in all 9 areas of health. The logo also appears as a growing tree with 9 branches that all need attention and care in order for the tree to thrive.
1. Water - Drink plenty of purified ph balanced water. Always drink water first thing in the morning, the last thing at night before going to bed and about 1/2 hour before meals.

2. Detoxification - Regular intestinal and colon cleansing with occasional kidney, liver and blood cleansing to eliminate toxins, heavy metals and stay regular.
Sweating and using Footbaths help to speed up elimination.
3. PH Balance - Test your ph balance a couple of times per week with litmus paper to ensure proper ph balance. Test first thing in the morning before you eat or drink.

4. Essential Fatty Acids -Monitor how much omega 3 you are getting and have the proper ratio of Omega 3 to Omega 6. Use quality Fish Oil, Anchovy Oil, Flax Oil, Flax Seed, Chia Seed.
5. Enzymes are essential for digestion and breaking down food so into liquid so you body does not have to work so hard. Enzymes are required for every chemical action in the body including energy, immune system, stamina and all minerals, vitamins and hormones depend on enzymes. Your life span is directly related to your enzyme potential and all organs, cells, muscles and bones are run by enzymes. Cooking destroys enzymes so eat as much raw food as possible and take enzyme supplements with your meals and in between meals foa longer healthier and more vital life.
6. Trace Minerals - Essential for life and their are 90 essential minerals we need for all vitamins, enzymes and antioxidants to work.
7. Antioxidants - fight free radicals and premature aging. The most powerful antioxidant comes from our own bodies glutathione.
8. Probiotics - Healthy Bacteria in our gut that helps with digestion and supports our immune system.
9. Hormones - Monitoring and balancing our hormones is essential for overall well being and proper supplementation.

My Mission is to help positive individuals achieve optimal health through education using an holistic, natural approach. Thank you for Visiting. Comments are appreciated.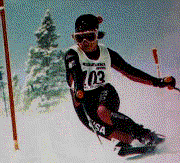 Beth Campbell - Owner

Background
I have always been into alternative health products and performance enhancing products for athletes because I was on the US Telemark Ski Team for several years. My background was in accounting, computer network administration, consulting, sales, the Internet and natural health. In the mid nineties my mom suffered a heart attack and was also poisoned by lead and mercury from being a clay artist and also by her dentist giving her mercury fillings. I started looking for answers on how to help my mom be healthy and free from the the heavy metals and toxins that contributed to her health challenges. My mom was my inspiration for healthy eating, vitamins and nutrition. It all started with the books from my Mom "lets eat right to keep fit" by Adelle Davis and Fit for Life.
I started Great Solutions in August of 1997 by beginning with Nutritional Products and also with Air and Water Purification and then saunas and chi machines followed. Over time Great Solutions has expanded with other products to support a healthy lifestyle and assist with circulation, and pain relief but I have always been interested in products that help eliminate the toxins. We are surrounded by and poisoned on a daily basis from our air, water, food and household products. Cleansing, Hydration and PH balance play such an important roles in the foundation of our heath before we even start to look at nutritional deficiencies. Water, Detoxification and PH balance are just the beginning. I hope that information we have provided will help you on your journey to learning about how to achieve optimal health and wellness.
Beth Long (Campbell) Telemark Ski Racing History

US Telemark Ski Team Member 1986 -1992

1984-1988 Jackson Hole Telemark Series Champion

1985 Crested Butte Nationals 25th Place

1986 Steamboat Nationals 4th Place

1986/87 Sun Valley Telemark Series Champion

1986/87 Vikin Fjord/Outside Magazine National Telemark Series Champion
1987 Aspen Nationals/Vikin Fjord 1st Place Slalom, 1st Place Giant Slalom, 1st Place Slalom
1987/88 Wasatch Telemark Series Champion

1988 Snowbird Nationals 1st place Qualifier

1988 Snowbird 1st Place (3rd place in mens)*

1988/89 USSA Outstanding Service and Dedication Award

1989 Pacific Crest Telemark Series 2nd Place

1988/89, 1989/90 Rocky Mountain Telemark Series Champion
1990/91 Rocky Mountain Telemark Series 2nd Place

1990 National Championships Beaver Creek, CO #1 Qualifier*

1990 National Championships Beaver Creek, CO 1st Place Giant Slalom*
(6th place in mens, Defeated Women's World Champion)

1990 World Championships Aspen, CO 3rd Place Slalom

1990 World Championships 6th Place Giant Slalom

1991 National Champion Stowe, VT 1st Place Slalom, 1st Place Giant Slalom, 1st Place Dual Slalom
1991 1st Place Overall Stowe, VT
1991 World Championships Vemalden Sweden 12th Place Giant Slalom

1993 National Championships Breckenridge, CO 2nd Place Slalom, 2nd Place Giant Slalom, 3rd Place Overall
1996 Utah Winter Games 1st place Slalom, 1st Place Giant Slalom

1998 World Cup Masters Park City, UT 2nd Place Giant Slalom

1998 World Cup Masters Snowbird, UT 1st Place Slalom